Our Plan to Redevelop Inglewood Care Centre
Built in 1963, Inglewood Care Centre at Taylor Way and Inglewood Avenue currently provides 230 Long Term Care beds funded by Vancouver Coastal Health. The building remains in use but is rapidly coming to the end of its serviceable life.
Baptist Housing acquired Inglewood Care Centre in early 2020 with a commitment to invest in seniors care and provide much-needed housing for them in West Vancouver by reimagining and expanding the seniors housing options available at Inglewood Care Centre.
Baptist Housing is an experienced and reputable non-profit seniors housing provider with 21 residences around B.C. and a mission to create environments that enable the holistic wellness of residents, team members, visitors, and community members. Our reputation as a non-profit is built on more than 55 years of investing in communities like West Vancouver.
We'll build a "Continuum of Care" at Inglewood
Team member housing so that workers can live and work on site

A "Continuum of Care" enables seniors to live in the kind of residence best suited to them, even if that should change as they age.

Our residents will be able to age within the same community, while remaining close to friends, family and familiar supports.
The Continuum of Care allows spouses to remain close to each other in the same community, even if their individual levels of care start to differ.
A Broad Range of Housing Options in One Community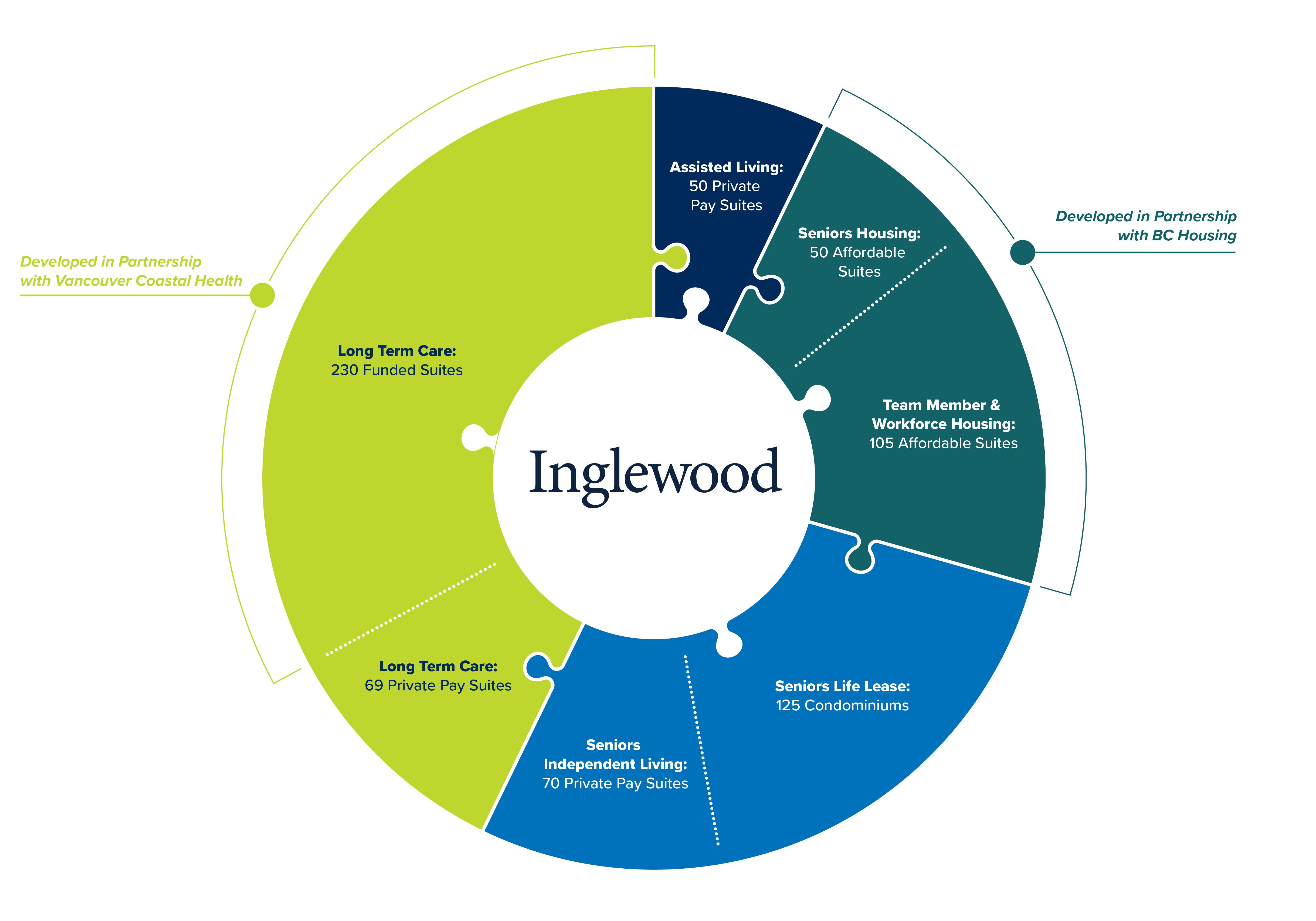 PHASE ONE  
Long Term Care (253 Homes)  
Continuity of existing full-time personalized care in a supportive and secure environment
Build a new 230-room long-term care residence on site, immediately to the west of the existing LTC.
The rooms funded by Vancouver Coastal Health will remain accessible to all regardless of income.
Residents in the current building will stay in their existing homes during construction and move into new long-term care residence (phase one) when complete.
23 private pay LTC suites will also be built.
PHASE TWO
Assisted Living, Memory Care & Long-Term Care (446 homes)
50 private pay suites offered as affordable housing for seniors who need some assistance with daily tasks or need specialized care and services to support personal safety
46 private pay LTC suites
Affordable Housing
50 subsidized suites for seniors and 105 affordable suites for team members and workforce
Developed in partnership with BC Housing
BC Housing will provide construction grants of approximately $100,000 per suite plus an additional $300 monthly rent subsidy per suite
Independent Living & Life Lease
70 condominium style suites for independent living with hospitality services
125 Life Lease suites available for lease like a purchase with preservation of equity and ongoing affordability
Proceeds from initial Life Lease sales contribute to affordability of affordable housing suites
A Continuum of Care
Baptist Housing is committed to providing exceptional holistic care, assisting seniors to experience life well in supportive communities. Central to the re-design of Inglewood is creating an environment that honours the individual and responds to the needs of West Vancouver through social and community benefits.
Important to this approach is the provision of affordable team member and workforce housing, enabling Inglewood to bring together people from many of life's stages and create a vibrant new community – a first in Canada.
Inglewood achieves this by enabling seniors to age within their community, close to friends, family and familiar supports. The Continuum of Care allows spouses to remain close to each other while their individual level of care needs change.
Offering options for care and suites through a broad range of affordability levels ensures this opportunity does not discriminate based on income, providing the optimal amount of benefit to West Vancouver seniors.