80% Support Oak Bay Lodge Redevelopment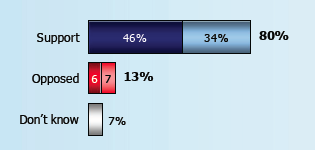 80% of Oak Bay Residents surveyed support the proposal to redevelop Oak Bay Lodge. In a recent poll conducted by Mustel Group Market Research, 8 in 10 favour Baptist Housing's proposal to redevelop Oak Bay Lodge with a new Long-Term Care facility and 46% of those strongly support the plan. On January 17th, Baptist Housing submitted to Oak Bay Council an amended application for the proposed redevelopment. The proposed new Long-Term Care facility provides 320 Long-Term Care beds. In the survey, 49% of respondents feel there is too little Long-Term Care capacity in Oak Bay and the new care building would address this growing need as identified by Vancouver Island Health Authority. Baptist Housing's submission to Oak Bay Council is part of a response to an RFP that was issued by VIHA in 2009 that called for the replacement and renewal of care beds and identified Oak Bay Lodge as one of the facilities requiring replacement. The Lodge does not meet provincial guidelines for the delivery of Long-Term Care. Baptist Housing's proposal includes the redevelopment of Oak Bay Lodge and the development of a second care facility in Saanich, located in the Mount View Heights neighborhood.  Approval has been received for the Mount View Heights location, but as it is part of the RFP submission, it can't proceed until Oak Bay Council reviews and approves the variance permit application for Oak Bay Lodge. There is overwhelming support to retain Long-Term Care beds in Oak Bay; 96% support keeping Long-Term Care beds in the community. Baptist Housing is extremely encouraged by the results of the independent survey. Ensuring a Long-Term Care community remains in Oak Bay is extremely important for the non-profit organization. Baptist Housing currently provides independent living at Shannon Oaks, assisted living at Marrion Village and subsidized housing at Marrion Village and Elgin Gardens – all seniors' communities located in Oak Bay. ABOUT THE SURVEY Baptist Housing contracted the Mustel Group to conduct a public opinion survey of the Oak Bay Lodge Re-development. The random telephone survey was conducted among a representative sample of 200 Oak Bay residents aged 18 years and over. Data collected was completed March 5-25, 2012.
For the complete survey results, download here.