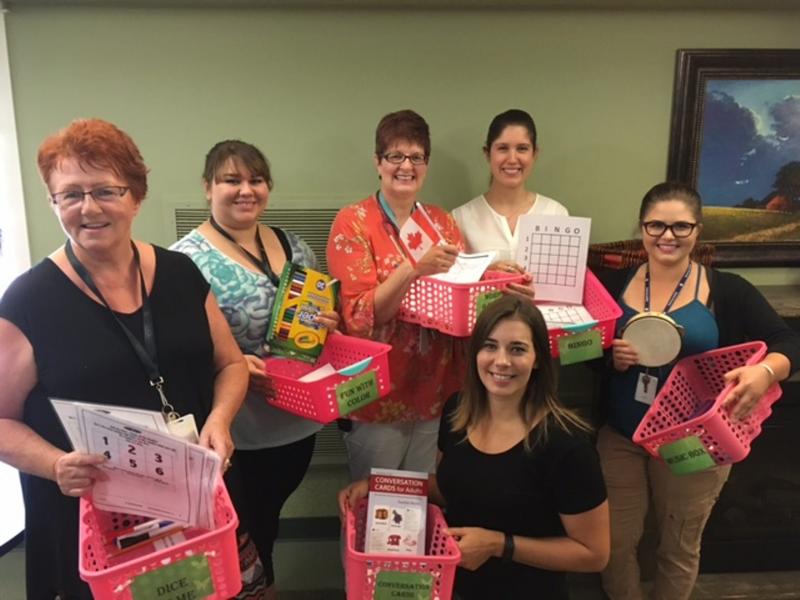 Our Kelowna Team made the #Canada150 initiative and here is the full story via Volinspire.
Baptist Housing in Kelowna BC, consists of 3 Long-Term, Assisted and Independent Living locations (Sun Pointe Village, Village at Mill Creek, Village at Smith Creek). All 3 joined in the Challenge to Celebrate Canada's 150th Birthday. Our focus was to activate and engage with our Residents by utilizing our newly created "DementiAbility Kits". The goal of DementiAbility is to find out the unique interests of each individual and therefore find ways to engage them. This involved a whole team approach (Care Teams, Nursing, Activities, Therapy, Support Teams, Volunteers, and Administration). One of Baptist Housing's core values is FUN and this challenge exemplified this!
OUR GOAL: To engage our Residents 150 times at each village using a DementiAbility Kit or another form of engagement (i.e. walking, cards, pictures, coloring etc.) We had a three-week timeframe to meet this challenge. Our Teams rose to the challenge and not only met this goal but exceeded it. This challenge has brought our Teams and Residents together to focus on meaningful engagement, which will continue to be a main focus of our care for all Residents. One of the most rewarding parts of our jobs is when our Residents laugh and smile!! #Canada150
Happy Canada Day!