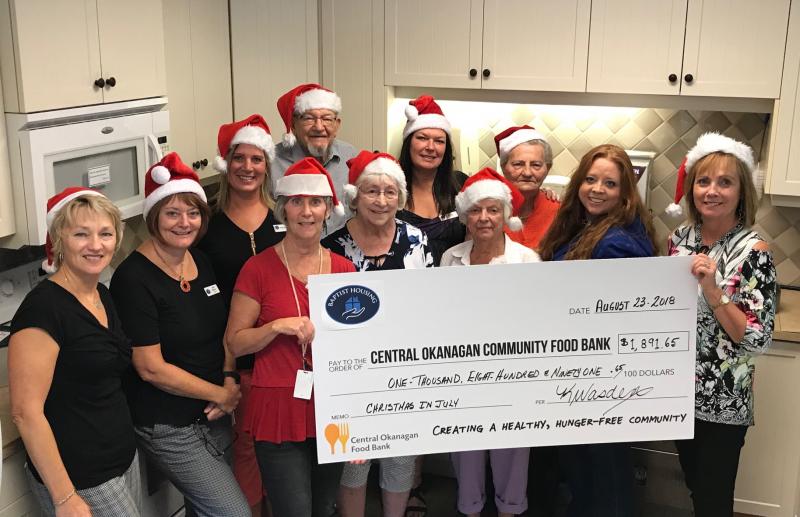 Baptist Housing is pleased to announce that its three Campuses of Care in Kelowna have joined together, Residents, Families and Team Members to raise funds for the Central Okanagan Community Food Bank during the summertime when their donations are at their lowest. 
The Villages were decorated for the month of July with Christmas Trees and Recreation Teams hosted fun events such as caroling and sugar cookie baking to help put everyone in the holiday spirit.  The Christmas Trees were decorated with candy canes and gift tags that represented the most common items needed including baby basics, meals in a can, canned meats and peanut butter.  Recognizing the purchasing power of the Central Okanagan Community Food Bank and its partnerships the Villages collected funds rather than goods so that the monies could be targeted to the most urgent needs.
"Christmas in July at Baptist Housing is a reminder to our community that the spirit of giving should be year round" says Food Bank's Lenetta Parry "helping our neighbours in not just a seasonal undertaking, giving is an everyday opportunity for those who are able to help. This is a timely donation for us, as donations slow during the summer months. We wish to thank everyone who made this donation possible." 
"Our Residents and Teams are very community oriented and were excited about the opportunity to provide support to those in need in Kelowna and West Kelowna." noted Elizabeth Harris, Senior Clinical Director with Baptist Housing.