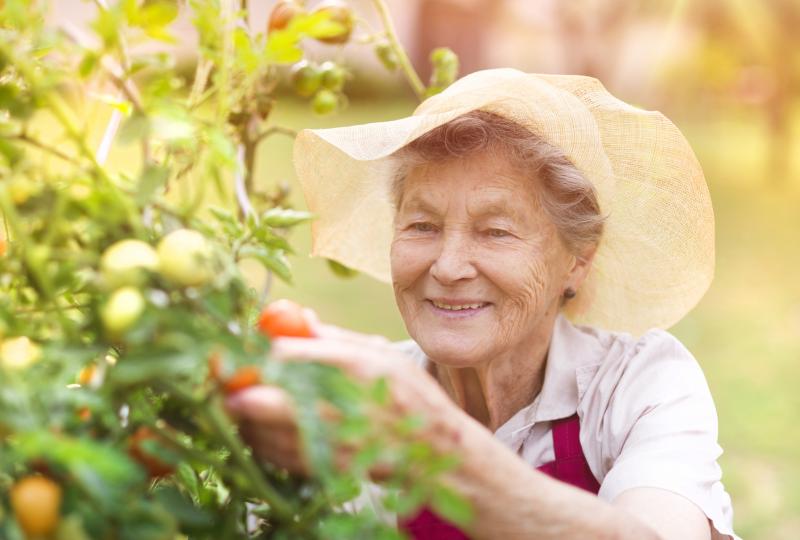 It's finally here! Warmer weather, longer days and a great excuse to spend time outside. It's also a time to start thinking about planting summer gardens. Why not try something new this year and join a community garden? Many of our Baptist Housing Communities feature thriving raised garden beds or container gardens that are available for our Residents to use. We reap the nutritional benefits of homegrown fresh produce all summer long, we also have the opportunity to connect and engage with our community. Who knows, the Baptist Housing community garden may even become the talk of the town!
Many quick-to-yield fruits and vegetables grow well in raised garden beds or container gardens. With very little time or effort, you or your loved one could easily have a bountiful crop of lettuce, salad greens, swiss chard, spinach, tomatoes, beans, peppers, herbs, strawberries, even eggplant or zucchini.
There are many benefits to growing your own food. First off, we are harvesting produce when it is ripe and at its nutritional peak. Additionally, we are supporting a healthier environment by cutting down on driving time to grocery stores, and lessening the need for food to be shipped in from other countries.  Community gardens have the added bonus of encouraging more green space within cities and strengthening an overall sense of community. By participating in community gardens we connect with nature, make friendships and we also increase physical activity. Talk about a great way to spend an afternoon!
Beyond nutritional and environmental benefits, there is also a body of research to supports the use of therapeutic gardens. Accessible gardens provide a safe space to engage in gentle exercise and sensory stimulation which can contribute to overall quality of life. The gardens allow us to enjoy a more natural setting which often inspires positive reminiscing, decreases stress and may even diffuse agitated behaviours.
Not only is the garden an inviting environment, but it can also be a fun family project as well. Residents and family members are encouraged to seek out opportunities to make use of various growing spaces throughout our Baptist Housing Communities. Be sure to grab a big floppy hat, your best tools, and an appetite for healthy fresh food…it's time to dig in and enjoy!
Jessica Stewart RD, BSc. | Baptist Housing Kelowna