IN JUST ONE YEAR, COVID-19 HAS CHANGED HOW WE MUST BUILD OUR SENIORS LOCATIONS FROM NOW ON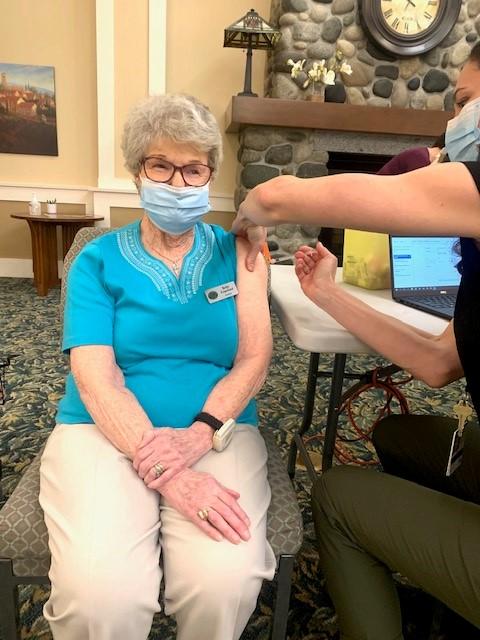 PRESS RELEASE
IN JUST ONE YEAR, COVID-19 HAS CHANGED HOW WE MUST BUILD OUR SENIORS COMMUNITIES FROM NOW ON
West Vancouver, BC, March 11, 2020:. One year ago, we all learned from Dr. Bonnie Henry that our lives were about to change radically with new restrictions to reduce the transmission of COVID-19. Today, vaccines are ready and being given - but more than 1300 British Columbians have died from the coronavirus, largely seniors.
Since COVID-19 became a public emergency a year ago, Baptist Housing also came to accept that the pandemic will have a permanent impact on how we must design and build our long-term care homes for seniors in the future.
Baptist Housing became acutely aware of this over the past year as plans were laid to revitalize and expand the Inglewood Care Centre long term care (LTC) community in West Vancouver. Infection control has always been critical, yet now it has become a centerpiece and integral part of Inglewood's new design and there's no looking back. Baptist Housing is a non-profit organization with 55 years' experience. It operates 21 seniors locations in B.C. and took over Inglewood in February 2020, right before COVID-19 took hold.
The revitalization plan calls for replacement of the existing 57-year-old LTC building and then adding a further mix of seniors housing to it. Inglewood's new LTC design means residents and team members will be able to avoid unnecessary contact as much as possible with other team members and residents, especially during viral outbreaks.
"One of the key learnings of COVID-19 has been that our behaviour outside of work, in our communities and with the people that we're close to, affects everyone around us at work, especially the seniors that we serve," says Marc Kinna, president and CEO of Baptist Housing. "Not only has off-duty conduct become a life-and-death issue, but how we accommodate those coming from home to work will be important in terms of not bringing in viruses in the future."
(more)
Among design elements created in direct response to our learnings from COVID-19:
Separated entry/exit flows to allow team members to enter through one door, don PPE and take an elevator to the households, and exit through a separate entrance to minimize contact with team members entering the building at shift change.
Change areas to allow team members change from street clothes into PPE and work clothing.
A covered loading dock allowing truck drivers to make deliveries without entering the building.
A visiting room with glazed doors so residents can visit with family members without being in the same room and sharing the same airspace during times of viral outbreak.
Private rooms for everyone with an attached three-piece bathroom, so each resident is able to attend to personal hygiene with privacy.
Greater access to natural light, to allow for more natural disinfection from solar rays.
Each "household" within the complex can function independently allowing housekeeping and items like linen and cutlery etc. to be separated.
About Baptist Housing
As a non-profit faith organization, Baptist Housing has a rich history of serving seniors in British Columbia. Our first senior living community was built in Vancouver's Killarney neighbourhood in 1964. Today, we serve over 2700 residents supported by 2500 team members. Our 21 senior living communities offer Independent Living, Assisted Living, Long-Term Care and affordable housing for seniors in Vancouver, West Vancouver, Maple Ridge, Abbotsford, Victoria, Kelowna, White Rock, Salmon Arm and Armstrong.
For more information on the Inglewood Care Centre project and Baptist Housing, please visit www.baptisthousing.org
-30-
Media contacts:
Deanna Bogart, Baptist Housing
cel. 604-862-2300
Trevor Pancoust
cel. 778-386-0843