Meet our volunteers from Distantly Together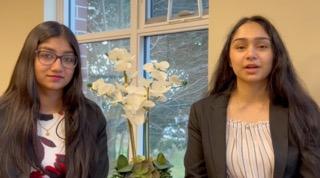 Ria Goel and Smirit Kocher, who have been volunteering with us at Evergreen since 2020. They are also the co-founder of Distantly Together, a virtual platform for seniors to engage with one another and to play fun games. The initial concept for this program was to socially connect with the residents who where isolated with COVID-19 restrictions. With everything coming back to normal, it is exciting to jump back into face-to-face again!
Have you ever heard or play Family Feud, Jeopardy or The Price is Right? These classic family games will be hosted every week with our residents' favourite topics. For example, travelling, cooking, cars and 60's pop culture. Ria and Smirit are encouraged when they see the beautiful smiles on resident faces.
Ria and Smirit also partnered with Peace Arch Hospital to work on a project to help seniors in independent living to recognize the early-warning signs of congestive heart failure. Their objective is to lower the rate of re-hospitalizations. They utilized the current advancement in technology to enhance social activities and to communicate useful information to residents.
To echo our volunteer coordinators' vision - enhancing the lives or residents through volunteer engagement. Would you like to volunteer with us and bring joy to our residents?
Click here to apply or learn more about the volunteer opportunities with us!