New Technology for Residents living in Long Term Care in the Okanagan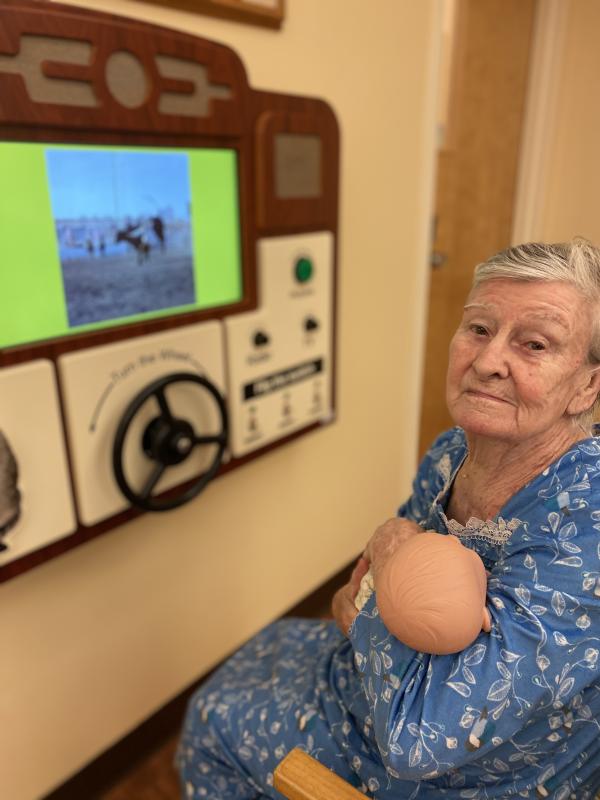 Technological use may seem out of reach or highly unlikely for residents living in long term care, but in fact more than a quarter of Canadian senior citizens actively use some sort of technological device. With the rise of video calling, text messaging, and other ways to communicate virtually due to the global pandemic, many of the elderly are jumping at the chance to develop some new tech skills!
With three housing locations in the Okanagan, our communities have developed a reputation of being a technological hub! Two locations, Smith Creek Village and Mill Creek Village, are now proud owners of some of the Central Okanagan's first ABBY Devices. An ABBY device is a cutting-edge technology that was designed to take individuals living with dementia, and personalize their experiences physically, cognitively, and emotionally. The residents are able to obtain a token-like accessory, and have their personal information pre-loaded on the device. This information would contain their native language, favorite music, photos, any thing else they deem important.
With Smith Creek Village and Mill Creek Village having many residents with dementia, this new device is extremely useful to these locations, and add a great addition to our residents lives and activities.  While it may not strike people to think that a long term care home would utilize such a high-end interactive technology, the team members at Baptist Housing are fully immersed in any new technological developments to better the lives residents.
As soon as residents come into contact with their new device, they are greeted by their mother tongue, are able to scroll through their photos, reflect on a memory, and even virtually drive down the street of their hometown! ABBY is able to provide a positive contribution by taking some stress off care workers, give the residents a space to connect with familiar and positive re-enforcing content, and designed to be flexible depending on the residents needs so they can use the ABBY device to the best of their ability.
              As we movie into a more technology-based society, we see the tremendous benefits for senior care. Giving the elderly opportunities to engage in these types of devices provides them a positive and engaging experience. We look forward to seeing future technologies that will be developed for senior care!