Senior Buddy Program at Shannon Oaks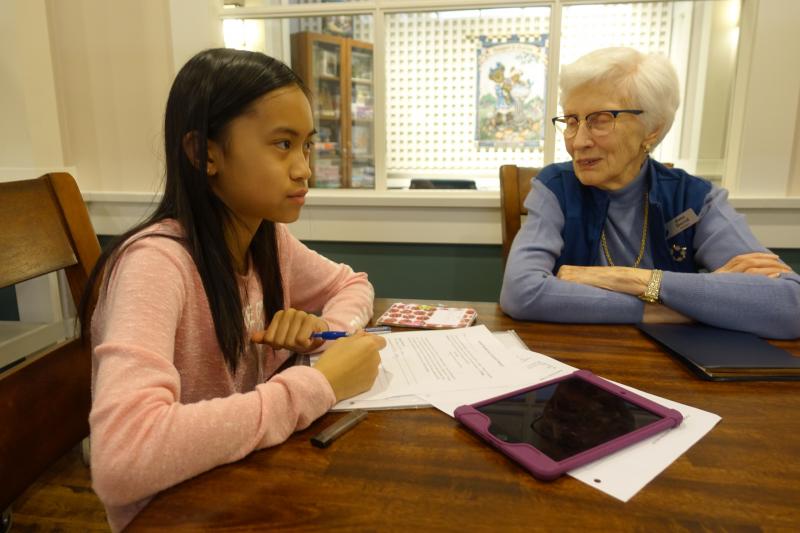 The students of Tecumseh Elementary in Vancouver's Victoria-Fraserview are part of sea-change taking place in BC's educational curriculum, but as far as the kids are concerned, today's field trip is just another welcome opportunity to visit some of the seniors at the Shannon Oaks retirement home.
"Dorothy is my Senior Buddy," says 11-year-old, Henry Situ. "She's a very good talker and has lots of really intriguing stories to tell."
Ninety-five-year-old Dorothy Dreger is one of 14 seniors who've volunteered to be part of an intergenerational initiative that buddies them up with Grades 5 and 6 students. The program, now in its second year, is the brainchild of Tecumseh teachers Marion Collins and Tilia Prior.
"We went over to the retirement home for several sessions and we played games, we interviewed the seniors, all with the goal of getting to know them," says Prior.
Senior buddies is designed to take advantage of BC's new curriculum introduced last year for kindergarten to Grade 9, and rolling out to all grades by 2019. At the centre of the redesigned curriculum are core competencies, a set of proficiencies in thinking, communication, and personal and social responsibility that all students need to develop in order to engage in deeper learning.
For Prior and Collins it was a welcome change. "When we both started teaching years ago it was a lot more open in terms of what you could do in the classroom," says Collins. "Over time things became very prescriptive, so this latest change is building more freedom into the curriculum, which is really exciting."
Both teachers say senior buddies was created with the core competencies in mind. "Not only do the students have to form a bond with the seniors, they have to talk with each other and that kind of communication is an important part of the new curriculum," says Collins.
"We've worked with the kids to understand that it's not just about asking a question and getting back an answer, but drawing stories out of the person they're speaking to and knowing how to carry on a conversation" adds Prior.
Last year, the kids made films about their senior buddies. This year the students are going to do a podcast about their senior based on Desert Island Discs - a popular British radio program that asks guests to choose recordings they'd take with them to a desert island. Creating podcasts can help stretch a young person mind according to Prior. "They have to think about how to tell the seniors' stories without any visuals and I think that requires so much creativity," she says.
In addition to helping kids improve their creative and communication, senior buddies also encourages them to think about the importance of personal and social responsibility, another key component of BC's redesigned educational curriculum.
"We talk a lot with the kids about building community and relationships, including how to be around different kinds of people and listen to what they have to teach us," explains Prior.
Eleven-year-old Liam Biln says he's learned a lot from his senior buddy, 88-year-old Hildegard Nickolai, who left Germany as a child to escape the Second World War. "Some people from other places are not as lucky as we are here in Canada," he says. "We're just happy we live in a safe country."
"I think it has really opened their eyes to beyond their family and beyond their class and beyond their school," says Collins. "You can teach it from a book, but this is an action, you're actually doing something and I think that really solidifies it for them. And the parents are thrilled too. So when you can do projects like this as part of the curriculum, it's really terrific."