A Tale of Two Countries | Author Series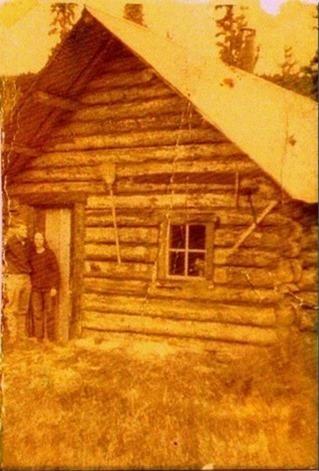 It was a hot August day in the summer of 1966 when my husband and I and our two small children emigrated from Oregon, USA, to British Columbia, Canada. In the USA, the Vietnam war was raging and some of our friends had been drafted. Others had just slipped across the border into Canada, where they had found a safe haven from having to fight in a foreign civil war which they didn't believe that Americans should have ever been involved in. 
Here in BC, the cost of living was lower, the Schools here were ahead of those in the States and violent crime statistics were lower for the most part. The Canadian medical plan was also much better than the 'cash on the barrelhead' system in the USA for seeing a doctor or entering a hospital. Those were the main reasons why we emigrated though the Vietnam War did play a part in that decision.
My husband Alvie's parents owned a log cabin on a lake about 15 miles back in the bush from Telkwa, BC (Telkwa is about halfway between Prince George and Prince Rupert on Highway 16). His family had often spent summers at the cabin and he had many happy memories of being there and often dreamed of someday moving there. In the summer of 1966, it was 'someday' for us. So, we applied for immigration papers and in August of that year we moved to New Denver, BC and received our new status as legally landed immigrants. 
One of the immigration requirements was that Alvie have a job in order to support his family. He was hired as the mate on a tugboat that towed logs down the Arrow Lakes. He worked for two weeks on and two weeks off and was paid for all four weeks. That gave us a good start and helped us to save enough to be able to move, after a year, to the cabin where he had spent such happy summers. 
Meanwhile I was alone with two very small children for each of the two weeks that my husband was working. Jeanne was only 2 1/2 years old and Michael only 10 months old. To complicate matters, there were no places of any kind to rent in the area. So, we had to locate to the only nearby camp ground and live in a tent for most of the summer. Then finally, just before it started to snow in late October, we found a house in Silverton that was for sale. It had originally been a boarding house for miners who worked at a silver mine (closed at that time) on the mountain that began just outside the backyard. It had a well, with a cold-water pump at the kitchen sink, and even an indoor bathroom with a tub which had water piped from the wood stove to the tub. We had to start the stove and heat the water before we could take a bath. There were no lights, but we had an electrician wire the house for one overhead light and one wall outlet in each room. The living room, as well as the kitchen, had a wood stove.
After a year, we moved to Smithers-Telkwa area in the summer and spent a wonderful month at our cabin. Then Alvie went into Smithers to look for work and a place for us to live. He did find work and came back the next day to move us all to a small house in Smithers. We hated to leave the cabin but Alvie needed to have a job to support the family. A year later, we moved to a property we bought that was half way between Smithers and Moricetown. There, we lived very much the same as our grandparents had, living off the land as much as possible. We had a log house which was heated with a wood stove; an outhouse; we hunted moose and fished for salmon for our meat; we had a huge veggie garden and a root cellar; a work horse to plow and till the veggie garden and haul logs for our winters wood in the 2 wood stoves; and a well for watering the garden, washing clothes, mopping floors, etc. Unfortunately, the well hadn't tested good enough for drinking or cooking with, so we hauled water from the nearby river in larger milk cans, which were loaded on a stone boat and then towed home by our work horse. 
We lived there for several years and our last child, another son named Jesse, was born while we were there. Later, we moved to the Topley-Houston area, where we raised our family. Alvie worked for the Northwood Forest Products company from when they were building the moll until his retirement. We all became Canadian citizens. Jesse now lives in Seattle, WA, and his wife Maria is from there. Jeanne and Michael still live in the Houston area. Alvie's parents and his 2 brothers also moved to BC and became Canadian Citizens. 
I now live in Victoria, BC at Marrion Village on Bee Street. I am very happy here and have so many good memories of living in British Columbia, Canada for these last 50 years (more than twice the amount of years which I had lived in the USA). I can honestly say that I do not regret for a single moment our having immigrated to Canada and that I am very proud to have become a Canadian citizen.
Written by Jane R. | Author in Residence at Marrion Village