Am I ready to move into Independent Living?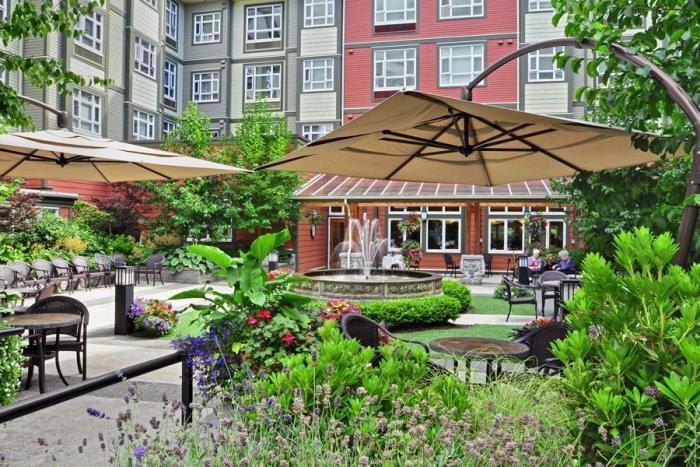 If you are a senior in your late 70s to late 80s and in good health, you probably want to live in your family home for as long as you can. Maybe you like to garden or host large family visits or maybe the thought of downsizing is so stressful you just can't bear it. You also might think moving into independent living means living in a nursing home and you just aren't ready for that yet - "I am still in good health, I don't need to be locked in a home". Well Independent living looks very different than that for sure. Independent living is a wonderful way for you to enjoy an all-inclusive lifestyle filled with social engagements, nutritious meals, daily exercise and new friendships. You would be surrounded by understanding peers and belong to a meaningful community. Some describe it as living on a cruise ship on land.
Your own private suite can range from 500-800 square feet and it features large windows, a full bathroom, kitchenette and utilities. Every meal is an occasion prepared by professional chefs and personally served by our dining staff. Fresh baked goods, fruit and beverages are available throughout the day. Independent living offers you an array of daily activities including fitness classes, crafting, painting, card games, discussion groups and field trips. Bus trips are scheduled multiple times a week to include malls, libraries, concerts and more. There is also a hair salon and esthetician available for all of your beauty needs. Other amenities include a gym with equipment specialized for seniors and a spacious entertainment room that hosts weekly movie nights, dances, socials and a variety of local entertainers. You can pick and choose what you like. Take part in everything or just sit back and relax and enjoy the 24/7 customer service. Cleaning….no more. For your convenience and peace of mind we provide weekly housekeeping, linen service and 24-hour emergency response. Your suite is left sparkling clean every week, while you can enjoy time with friends and family.
Step into a beautiful courtyard with a bubbling fountain and landscaped gardens to relax in. Do you like to grow your own tomatoes or plants? We have a greenhouse for all your green thumb wants and needs. There really is something for everyone. While living in independent living you will feel like you are part of one big family. Residents often become friends and care for one another as well as the staff. It is really beautiful to see. Are you feeling lonely? Do you live alone and want to stop burdening your family with chores around your large home? Maybe it is time for you to come and take a personalized tour of our Independent living community. There is a new journey waiting for you.
Kailee Haaksma, Marketing Manager | 250-595-6257