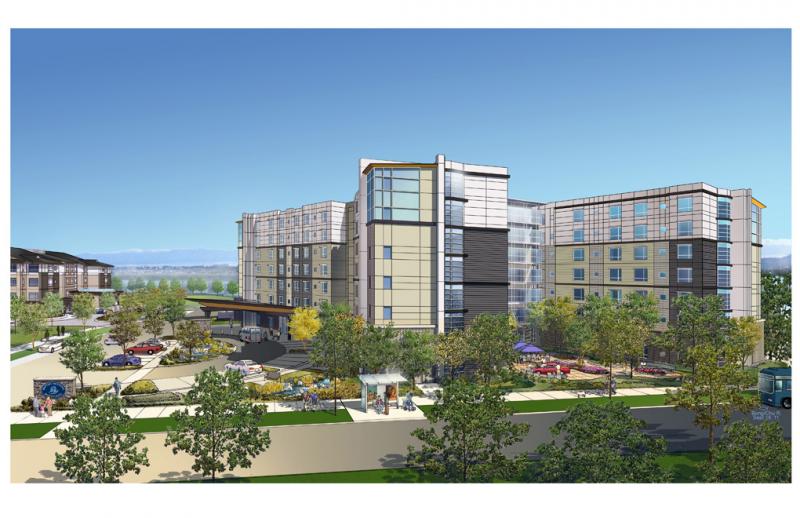 Plans to renew long-term care services in Greater Victoria have taken a big step forward with the signing of an agreement to move ahead with the development of a $60.5 million, 260-bed long-term care facility named The Heights at Mt. View on Carey Road.
The Heights at Mt. View is a 7-storey, 260-unit long-term care facility located in Saanich, BC.  With construction scheduled to be underway by September 2012, this innovative project is part of a regional plan and partnership with the Province of British Columbia, Vancouver Island Health Authority, the Capital Regional Hospital District and Baptist Housing to replace obsolete long-term care facilities in the Capital Region, and provide more care and housing options for the growing senior population.  The Heights at Mt. View is scheduled to open December 2014 and will replace the long-term care beds at Mount Edwards Court Care Home and Central Care Home. The essence of the design approach at The Heights at Mt. View is Resident-centered care.  It is design that exceeds operational requirements and is inspired by the individuals who will call it home. Each floor is organized into a series of houses accommodating 20 Residents.  Each house contains a central living area that serves as the heart of the house, and each Resident is provided a private room with a full ensuite bathoom.  The first level of the building also plays host to a variety of amenity spaces that Residents can enjoy with family and friends.  This amenity space includes a bustling café area, an open performance space for events such as Christmas concerts and chapel services, a towne hall for meetings, a private event room that can be used for meeting space or enjoyed by family members for functions, a wellness centre, a hair salon, a landscaped courtyard with seating and a terrace area.
Highlights of The Heights at Mt. View:
Evidence based design providing state-of-the-art care
220 Long-Term Care units and 40 Licensed Dementia Housing units
Home-like environments where Residents live in houses, each with 20 private bedrooms, a kitchen, dining room, living room, and den
Large outdoor landscaped courtyards
Amenity spaces including hair salon and wellness centre
Towne Hall main floor offering a cafe, lounge area and welcome lobby
Part of a Campus of Care, adjacent to Carey Place, an affordable seniors rental building
Located on Carey Road, with easy access to transit, shopping and community services
Attached is the press release, issued August 21, 2012 announcing the approval and development of The Heights at Mt. View.